NCR Form Printing Services
Let Catdi Printing take charge of creating an appealing impression of your business to your clients and prospective partners by offering you full color carbonless forms that are printed on high quality NCR paper. With the NCR forms, you can easily produce multiple copies of a single document by either handwritten or typed format.  They are very handy for a business when creating invoices, receipts, delivery notes, contracts or purchase orders. The NCR forms are very handy and crucial when it comes to controlling the chances of errors since the similar information is relayed in all documents, the originals and the copies.
The full color forms are available in 2-part that is in white and canary and 3-part that comes in white, yellow and pink color at two different sizes, half page 5.5"x8.5" and full page 8.5"x11". Your desired NCR form can be printed on the front and back depending on the type of your content, as well as sequential numbering is inserted.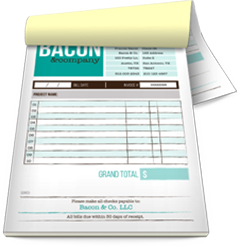 So, how do you get Catdi Printing to create your NCR forms? Well, there are several ways to go about it to ensure you have your desired content.
You can create your own custom form and send it to us
You can also choose from our wide selection of templates
You can also partner with our designers to create your own design
Once you have our desired template, and it is well numbered, you can opt to keep them in a booklet format where instead of every time you need to make a purchase order, you have to print, so we ensure we've got you covered. The forms are perforated at the glued end which is normally the short end of the page, making it very easy to tear the form and hand your customer or client in seconds. A sturdy material protects the forms from collapsing while it can also be slid between pages to prevent the transfer of content to other unwanted pages. The booklets are large enough to run anywhere between 100-500 times per part.
At Catdi Printing, we bring color to your day to day transactions!