Full Color Flyer Printing
Why Are Flyers So Darn Effective?
Flyers are one of the most versatile tools that can, and should, be used in your business's marketing strategy. You might think traditional flyers would be dead in today's digital landscape, but you couldn't be more wrong. Flyers are easy to distribute and have multitudes of uses. Also, of course, they are incredibly easy to distribute. Flyers are simple and easy to read. They have a quick turn around time and can easily be printed quickly.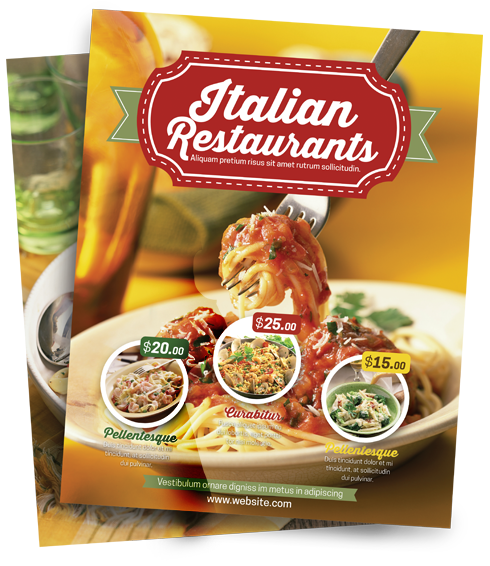 Flyers are also great for mailing to customers. Many people believe direct mail is dead, but in fact, it is quite the opposite. The Data and Marketing Association conducted a study that showed 57.1% of people still open their mailers, which means mailed flyers are still incredibly effective!Here at Catdi Printing, we would be more than happy to help you design an eye-catching flyer with concise information to help you convert potential customers.

Low-Cost Distribution 
One of the best ways to stretch a small marketing budget is to create flyers. Flyers have a wide variety of distribution methods, such as direct mail, door to door distribution, or even leave-behinds when you meet your clients.

Flyers can be used to target your ideal audience easily, unlike digital marketing, where you can blow a good portion of your budget on an ad campaign. A flyer can get you in front of your customers for a fraction of the cost, and is just as effective!
Create Incentives For Your Clients 
Flyers give you an easy way to create incentives for your potential clients. For example, you can add a coupon for 20% off or a special coupon code. Doing this creates an easy way to pique the interest of potential customers and often will push them towards purchasing your service.
These promotions are easily tracked by your business as well. You can use these coupon codes or discounts as a measurement to see how your marketing campaign is running.
 Let Our Design Team Help! 
Not all flyers are created equal! The team at Catdi Printing offers design services to help our customers achieve their design goals within their budgets. Our team of skilled designers can help you bring your vision to life!

We care about your business, and we believe your design reflects directly our team and reputation. We like to treat each customer as if we are designing for our own business. This is something you won't get at a big-box retailer who just wants your cash and send you out the door. We care about our customers, and do our best to satisfy you with an incredible design!
 
Only The Best 
At Catdi Printing, we use only the best inks and cardstock for our printing services. You will never receive any low-quality paper or dull-colored prints from us.
A low-quality flyer will be quickly discarded and is a waste of your money. This is also a terrible first impression for any potential customers. A poor-quality print job will quickly end up in the trash with the other junk mail. It is crucial you take the time to design a well-thought-out flyer so a consumer wants to read it!
We want to help you create flyers that resonate with your potential customers and lead to sales, not the trash can
 Scalable to any and every use case
  Flyers are one of the most affordable forms of advertising. The best part about flyers is the scalability of the product. If you find your flyers are working through tracking coupon codes or promo use, you may want to decide to buy them in bulk. The best part about bulk purchasing is the higher the quantity you buy, the lower the cost becomes. This isn't an option when running Facebook ads. You can cover more ground, with less money, the traditional way!
What do I need in order to have a flyer made?
 All you need to create a flyer is a logo, image, and some text. Single or double-sided designs are available, as are matte and glossy finishes. We also offer our flyers with standard 44-panel accordion folds as well as 4-panel accordion fold via estimation only. Your flyer can be coated with an AQ or UV finish. Pick them up in-store or have them delivered today!

 Catdi Printing Brochures
Are brochures still important in today's digital world? Absolutely! Why is that, you ask? Brochures allow you to tell your brand's story and give your potential customer an idea of your services or products. Your brochure is what stays behind in our customer's hands, so
Brochures are an inexpensive form of advertising that allows you to highlight any key points for your business. They are versatile marketing items that can be easily distributed.
Why are brochures useful?
Brochures give your business the ability to share a lot of information on a small easily distributable piece of material. Any style of brochure that we offer at Catdi Printing can easily help you get any information you'd like across to your client.
They build trust with your potential clients as well. A well designed, full-color brochure shows your client you are an established business willing to invest in marketing materials. It may sound silly, but something as simple as a brochure will give you credibility in the eyes of many consumers. For example, a man offers to cut your grass and gives you a phone number to call or a man gives you a well-designed brochure explaining all the lawn care services he offers, which would you call?
  Cost-effective
Brochures are one of the lowest-cost tools you can use for a marketing plan. Cadti Printing is always willing to help our clients design a brochure that can fit within your budget. Another benefit that comes with purchasing brochures is that their cost decreases as you buy in bulk. They are easily reusable tools that can be used for a long period of time.
 A brochure can also be used for a variety of situations. Since they will have all the information you want to convey to customers or potential customers about your business, they can be used as mailers, handed out at trade shows, given to any business contacts, amongst many other uses. They save you time and money when you need to give a quick summary of what your business offers without the need for buying multiple forms of marketing materials.
  Easy to distribute
  Brochures similar to flyers can be distributed almost anywhere. Leave them behind on a sales call, stick them in a storefront, mail them to your target audience, or keep them in your car to hand out to other professionals. No matter which way you look at it, the brochure is able to handle any situation you throw at it.
  Variety of sizes
Brochures can come in a variety of sizes. Here at Catdi Printing, we offer a wide variety of brochure sizes. Your brochures can also come in a standard 4-panel accordion fold as well as a 5-panel accordion fold which is only available via estimation. The brochures can also come with AQ or UV coating for an added finish!
Quality Full-Color Flyer Printing in Houston
Flyers are the most popular and most effective print item used by businesses. The reason is simple: It Works! Flyers are a cost effective way to promote any business or product. Flyers are a extremely versatile marketing tool. Flyers can be handed out, direct mailed, posted, and easily distributed.
With that being said not all flyers are created equal. Everyone has seen at least sat some point flyers that were poorly printed. These flyers are quickly tossed out and forever discarded. This shouldn't happen. We use use only the finest card-stock and inks in our flyer printing.
Flyers are a great way to send something to your customers to keep them up-to-date and informed on your sales and services. They can also be posted on local bulletin boards or other advertising spaces to catch the eyes of potential customers anywhere. Whether you are looking to convey your store hours and other business or information or advertising a sale event, flyers are a great way to do it. Slip them into store purchase bags or pin them to the walls of your business space. Design them from scratch or in moments using a template. All you need is a logo, image, and some text. Single or double-sided designs are available, as are matte and glossy finishes. Pick them up in-store or have them delivered today!
Matte and glossy finish available

Design from scratch or choose from our templates

Delivery or in-store pick-up available

Lots of stocks and coatings are available