Houston's Leading  Every Door Dirct Mail EDDM Provider is Catdi Printing
Catdi is a leader in providing affordable print/mail marketing and design services. Catdi in conjunction with the USPS's Every Door Direct Mail Retail is now offering print sizes that are capatable with this new service.  The EDDM marketing service has exploded over the last couple years as more and more business have discovered the cost savings associated with the program vs. traditional forms of direct mail marketing.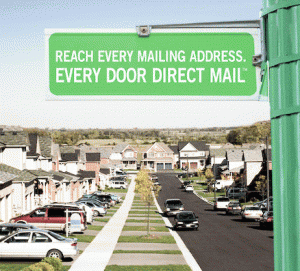 Catdi is a trusted partner of the EDDM direct mail program.
It's a new and exciting offering from the United States Post Office . It provides a cheap and effective direct mail marketing option for small business thinking about using direct mail marketing.You can target local direct mail areas for as little as $.18 cents for each piece. EDDM is much more streamlined for smaller businesses as don't need permits, mailing lists or address imprinting equipment.
Every Door Direct Mailing (EDDM): Build Your Business Quickly and Easily
Highly-targeted mailings remain one of the most effective methods for generating business. At Catdi Printing, our team works diligently to make sure your mail marketing efforts are carefully designed to attract clients in specific Houston area neighborhoods. EDDM marketing has exploded in the past few years because it works. Small business owners are finding their marketing dollars go farther when Catdi Printing designs their marketing materials and makes sure their materials reach a target audience.
Keep Costs Printing and Mailing  Low
How Does the System Work?
Business owners simply pick the best way to reach their target audience. EDDM guidelines allow businesses to elect delivery to specific zip codes, cities, a specific radius, or even the quantity of materials to be delivered. EDDM's flexibility allows any business to target specific neighborhoods in their service area. That type of exposure can significantly boost sales of any product or service.
New business owners may find this strategy is ideal as a way to introduce their business to the neighborhood. There is no better way to introduce a service or product than a carefully crafted mailing that will attract attention and encourage area residents to visit the business. Special offers are a great way to encourage potential customers to take a chance on a new business.
Existing business owners still need to advertise frequently to keep their name in front of customers. Advertising is especially important when competitors enter the area or actively market similar products and services. People tend to do business with familiar names, so keeping a business name in front of them promotes that type of familiarity.
Designing the Marketing Materials Remains Important
Catdi Printing encourages every client to explore using different types of marketing materials for their EDDM campaigns. Rather than sending out the same or similar materials for every mailing, have our team design unique materials that keep recipients interested. Changing materials seasonally is always a good strategy, and at Catdi Printing we're ready to work with every client to determine what types of materials would be most effective for each mailing.
If a business's service area is diverse, the EDDM system allows business owners to tailor their mailings to match specific demographics. That means a business can send unique mailers to each neighborhood to best serve that area's unique needs. Our team is here to help any client define their demographic and determine what types of materials would tend to generate the most business for each demographic area.
Of course, the quality of each printing is important. Both potential and existing clients are more likely to respond to materials that are carefully designed and printed. Even the types of paper used are important, as the look and feel of materials differ significantly when printed on carefully selected materials. Ask our experts what materials would present your products or services in the best light.
Why Use Catdi Printing?
Catdi Printing is a leader in marketing, and our team is experienced in all types of campaigns. That means we've helped clients needing to generate sales as cost effectively as possible and keep their businesses in front of customers. EDDM campaigns are a prime example of a strategy that works, and we're here to help our clients take advantage of this exciting and productive opportunity to generate increased sales. Our team has experience helping clients in diverse business segments to identify target demographic groups and develop materials to attract those groups.
At Catdi Printing, we understand how important it is for our clients to generate results while, at the same time, sticking to a budget. That's another reason we promote EDDM as a way to conserve advertising dollars and still build business volume.
Get Started Now
If you're unsure how an EDDM campaign can help your business, get in touch with our team today. We can answer your questions and explore ways to improve the returns on your advertising dollars. We can also design and print the materials to meet your specifications and attract clients. Remember that retaining existing clients is every bit as important as attracting new ones, so ask how an EDDM campaign can accomplish both goals. We're here to help, so get in touch now to start generating more business.
The first step is to pick the zip codes, city or mile radius and quantity you want delivered. Your message will go to every residential address and business or just residential address in that zip codes, city or mile radius of your choice.
Check out FAQ's ON EDDM (Every Door Direct Mail)
EDDM Overview How To Guide —— Get Started
EDDM – Direct Mail Marketing Presentation – EDDM Download for Houston Area Businesses