Advertise With Promotional Coffee Mugs
Promotional Coffee mugs by Catdi Printing advertise you like few tangibles can. While business cards, brochures, and even magnets all have a certain amount of appeal, a promotional mug has something more than simply visual aesthetics. It has a functional use that guarantees constant contact with your prospect. With your message printed prominently on the mug, you can rest assured that whoever uses that mug is going to be continually remind of your brand, your value, and your unique competitive advantages. Catdi Printing gives you the best in promotional mug design, with two different sizes you can choose, and with printing that wraps around the entire surface of the mug. Our mugs are dishwasher and microwave safe, so they will last for years as they continually advertise you to valued clients, prospective customers, and strategic partners. In addition here are some mug templates that we provide for free.
With the holidays right around the corner, now is the time to invest in promotional mugs. Order today and send them to businesses you plan to call on next year. Nothing says "customer friendly" more than a free gift in the mail. Imagine how prospective customers will react to your offer of business after you have done something for them? Even more important, however, is how existing customers will view you when you send over a box of promotional mugs. Never forget how important it is to nurture existing customer relationships. In today's competitive marketplace, new customer acquisition costs remain at a consistent high. Holding onto existing customers not only helps maintain revenue through repeat business, but it also helps avert the cost of having to replace customers you might otherwise lose.
Consider, too, that everyone uses mugs in today's office. While not everyone drinks coffee, there are just as many people who drink tea and other beverages throughout the day. Some companies spend a small fortune on disposable cups for their employees. Consider the PR you can earn by supplying an important client with mugs for each of their staff. Not only will a significant impact in terms of PR, but your will actually help save them money on Styrofoam and plastic cups! Everyone from the front lobby to the boardroom to the executive team will not only remember your name, but they will also be grateful to you for your thoughtful and useful holiday gift.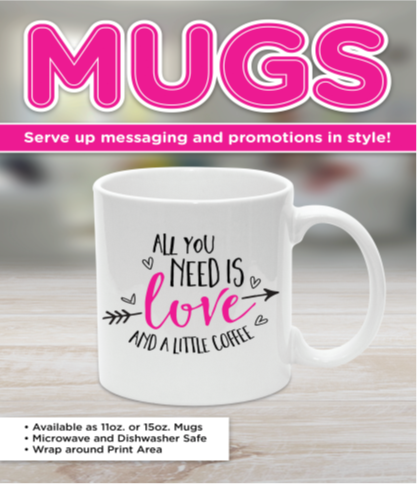 Catdi Printing's design team stands ready to help you make a lasting—and meaningful—impression on your target market. Our team can imprint logos, graphics, text, and even pictures onto promotional mugs. Unlike some of our competitors, we can print on the entire circular surface of the mug, creating a wraparound effect for maximum visual and emotional impact. Our methods and materials ensure that your mugs will retain their appearance even after years of use. They are designed to withstand constant microwave and dishwasher use without losing their color or shine. Order today, and make the most of this Holiday Season with a gift that will last for years.
Questions: They are suggested questions. Feel free to change. 1-3 paragraphs only for answers to questions. Copy from sources and mark in red. After you have copied them in red font, rewrite in black. Please put the links to sources in the links section.
What kinds of companies use mugs? Everybody uses mugs. They are a standard feature on any desk in any office cubicle environment. And everybody's got their favorites. Just imagine a boardroom where everybody's got matching mugs to the top and right of their presentation folders. It's kind of like a fun loving Family Reunion with Matching T-Shirts! And besides. They're built tough enough to withstand a hearty clink with after a hearty toast. A little holiday cheer in the eggnog anybody?
When is the best way to give out mugs? Imagine a boardroom meeting with the big long table and everybody's got their matching mugs. It could even be a yearly event and they could become collectors items. And it would be great to hand them out as gifts before the office party or holiday gathering.
What kind of results do organizations get when advertising with mugs? The main result from which an organization, either small-scale or corporate, would benefit when advertising with mugs is the feel-good principle. Because it doesn't just apply to men anymore. The way to ANYbody's heart is through their stomach. Men, women and children alike. And it's not so much the fill-the-belly aspect of it as it is