Postcard Printing
How We Create Effective Postcards for Marketing
At Catdi Printing, we are well versed in the art of postcard mailing campaigns. We have a proven design process that ensures you get all of the benefits of postcard mailing. With over 10 years of experience, we've learned what works and what doesn't.
Use bold headlines that are specific to your offering
When designing a postcard, you want your message to be immediately visible to your potential customer. There should be no doubt in their mind about what you are offering, even if they do not read past the headline itself. Since we know that almost 100% of postcards are scanned upon arrival, this simple step achieves results.
Include a call-to-action in your message
No marketing effort is complete without a call to action that asks the recipient to take the next step. The reader may be interested in your product, but without a straightforward way to proceed and learn more, there's a chance they will just move on with their day costing you a potential customer. We have experience writing strong calls-to-action that convert for our clients.
A strong call to action:
Begins with a verb – By starting with an action word, you are setting the stage for the customer to take an action.
Indicates a sense of urgency – By including language that suggests immediate action, you will see a higher conversion rate. This sense of urgency is designed to give the reader the extra push in the direction of taking the action you suggest.
Includes a clear benefit to the recipient – Perhaps most importantly, you need to let the user know what's in it for them. If your target customer does not understand what your product or service offers them, they will not spend more time with you.
Calls to action also typically include a way for you to measure your ROI by including a website or phone number that has been created for your campaign. Following these guidelines allow us to increase the chance a customer will interact with your business further.
Use striking imagery that is relevant to your business
One of the main benefits postcards offer is the ability to catch your reader's attention by use of imagery. A visually pleasing, relevant image is key to your recipient reading further. We specialize in helping you select or design beautiful images that fit criteria of successful postcard campaigns.
We know what works, and what doesn't.
Include an offer or special deal
In addition to your call to action, having another incentive on your postcard helps convince those
who may still be on the fence. If a user is considering trying your product but is not sold yet, including an offer like 25% off for first time customers is an effective way to encourage them to take the next step. You have your customer's attention for a short period of time so you want to make it count.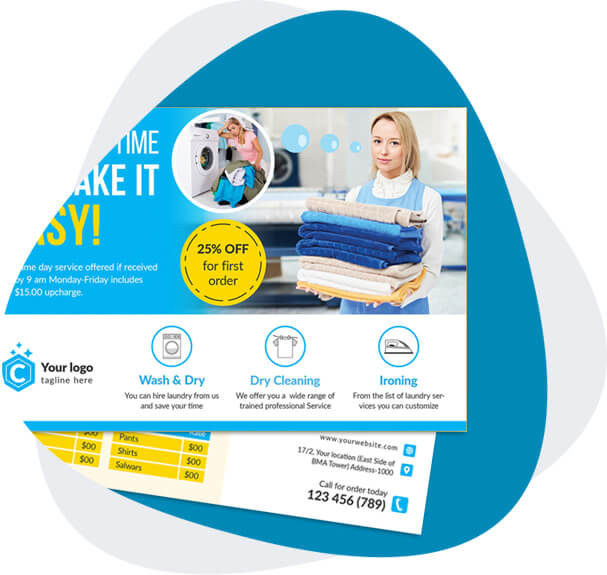 Include your business's contact information
While this is an obvious tip, it is one of the most important things to include on your postcards.. Contact information like a phone number, website, or email address lets the user act on your deal if they are interested. Without this information on your postcard, even the most interested and motivated recipient may toss your postcard in the trash. Your main goal is to remove any potential barriers that would cause friction for the recipient and slow their progress in purchasing your products or services.
Deliver a single, clear message
Postcards are not the right place to fully educate customers about your business. A postcard is limited in the text it can contain, and a busy design with too much information is not effective. Including too much information is a good way to overwhelm your reader.
Your goal is to convey a single, clear message, while representing your brand. Since physical mail is the most effective medium for building lasting brand awareness, a properly designed postcard will always be a positive addition to your brand awareness strategy. Even if the user is not interested in your specific offer, they have been exposed to your brand's imagery, logo, and name. A well thought out design builds positive sentiment to your brand regardless of immediate conversion.
Have a targeted mailing list
Having a targeted mailing list is key to getting the best ROI from your postcards. Create a mailing list of people who you think will be most interested in your services. This requires taking geographics, demographics, firmographics, and psychographics into account. Mailing lists can be updated as you progress through your marketing efforts to further hone in on the segment of the population most likely to buy your products or services.
Personalize your postcards
Postcards have the ability to be customized for each recipient. Personalization in this format is typically as simple as including a name field in your offer. Instead of your postcard reading "visit our website to receive a 25% discount on all types of cheese", it can read "Hi Tom! Please visit our website for a 25% discount on cheese we know you'll love!". The extra personalization of including the name of your customer can be the difference between a fully read postcard, and one that was only scanned before being thrown away.
Catdi Postcard Services
Our postcard size offerings
Standard postcard sizes:
4.25" x 5.5"
4" x 6"
5" x 7"
5.5" x 8.5"
6" x 9"
6" x 11"
Every Door Direct Mail (EDDM) standard postcard sizes:
4.25" x 10.625"
4.25" x 15"
6.25" x 9"
6" x 11"
Custom postcard sizes:
We are happy to offer custom postcard sizes! If you have a specific vision in mind, contact us and we'll be happy to help turn it into a reality!
Standard postcard paper recommendations:
100# Uncoated Cover: A bright white smooth cover stock that is substantial while being budget friendly. This paper is the minimum thickness required by the USPS when sending a postcard through the mail. While it is the lightest paper we offer, it will still hold up to abuse. This paper type is excellent for writing on.
120# Dull/Matte Cover: This paper is a 14 pt stock that comes in a matte, non-shiny format. This paper is heavy enough to withstand detailed printing while maintaining its ability to be written on. This paper is one of our most popular options in our postcard business.
120# Gloss Cover: This paper is the same weight as the previous option, but features a shiny front and back for a postcard that will POP. The glossy coating of this option will make your images stand out and the gloss cover makes the entire card very durable. This paper is not recommended for use if you intend to write on the paper directly.
200# Gloss Cover: This beautiful, thick paper, is the heaviest cardstock we offer. A 200# cover stock is great for utilizing some of our custom postcard services such as foil stamping or die cutting.
Custom postcard printing options
At Catdi, we have the ability to add one of several custom services to your orders to ensure your postcards have the extra pop they need to help them get noticed.
Foil Stamping: Foil stamping is an excellent option when looking to ensure your postcard catches the recipient's eye. We utilize a state of the art foil stamping process and can offer multicolored foils imprinted into your card in designated shapes, designs, or lettering. Make your company name shine right off the page with our custom foil stamping offerings.
Embossing: Embossed postcards offer yet another dimension to the overall postcard experience. In this case, we utilize our die press to imprint custom designs on your postcards which add a tactile element to the joy of receiving it. This custom service is yet another great way to ensure your postcards are noticed and read.
Die Cutting: Die cutting allows you to create unique shapes with your postcard. If you have a design in mind, we can cut it! We can cut your company logo out of the card itself or we can modify the edge design of the card. Both practices add a truly unique feel to your postcards that will get you noticed.
Metallic Ink: Very similar to foil stamping, metallic ink options provide a contrasting, shiny effect for your lettering or designs. Due to foil stamping being slightly inefficient by nature, metallic ink is a great way to save money while still making your design special.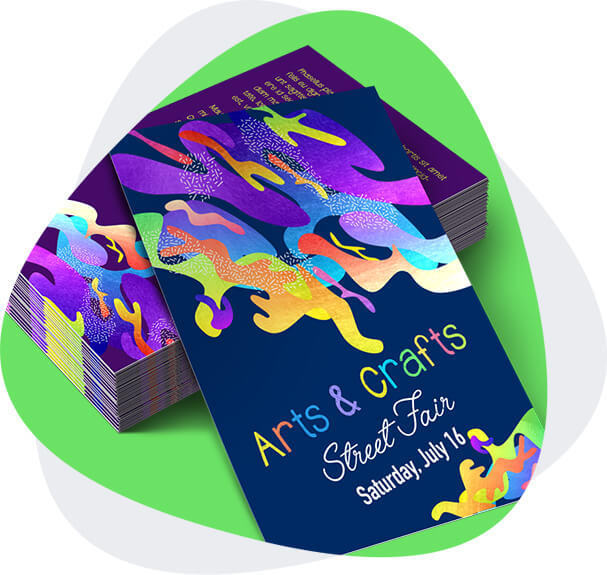 Postcard FAQs:
Postcard Printing Houston
Our print postcards are proven to increase sales and brand awareness. Postcard printing has been proven to be a great cost-effective marketing tool. With our postcards, you'll be able to achieve real growth with a higher ROI than with other traditional marketing methods. Our postcards come standard with a 14pt card stock and not to mention that all our postcards come with FULL COLOR on both sides at no additional cost. Postcards are probably the most used marketing tool and most affordable tool that businesses both past and present use to market their services or products.
Catdi has been a significant provider of postcards printing services to the Houston Metro Area. Catdi has expanded its printing services to growing Houston communities such as The Woodlands, Spring, Sugarland, Conroe, and Victoria. However, we have in addition to being a regional printing provider we have been servicing clients throughout the USA and international based clients. We are very pleased that we have been able to help growing businesses in these areas save lots of money on all their print marketing needs. Lastly, while it's important that your business cards are printed in a professional manner, one thing that tends to get overlooked is choosing quality design services. Catdi Printing works with amazing designers that will bring your postcard design to life. Check out some of our Postcard designs here.
Delivered Postcards with Direct Mail
Postcard printing with direct mail adds a special touch to your customer interactions. Whether it's for a promotion or simply to thank a valued client, your business and brand will gain visibility and recognition through postcard delivery. Two full-color sides and multiple sizes give you a variety of options and allow you to convey nearly any message you wish. Product advertisements can be laid out on oversized cards, while smaller cards can serve as a simple thank you. Design these yourself from scratch or choose from numerous pre-designed layouts. Pick-up and delivery of these postcards are both available.
Multiple sizes and finishes available
Customize your own from scratch or choose from our templates
Multi-functional and highly personalizable
Delivery or in-store pick-up available
Catdi prints on a wide range of paperstocks.
Our standard and most effective paper stock on our postcards is a CS2 14pt paper stock. This cardstock is perfect when it comes to multi-use postcard marketing especially when the amount is greater than 10,000. We offer businesses other paper stocks such as 80lb gloss and 100lb gloss stock which are great for leaflets type flyers. The only drawback is that they can't be used for direct mail marketing.
Postcards for Your Business
Postcards are a great tool for marketing and an efficient way to get information in front of prospective customers. By using direct mail to market your business, you are investing in a tried and true marketing method.
Americans receive 605 emails each week on average, and only 15 pieces of physical mail. The average lifespan of a marketing email is 17 seconds, whereas direct mail lives on for 17 days. This means that a postcard sent directly to someone's address sticks around 86,000 times longer than an email and has a much longer period to convince someone to use your services.
Why are postcards so effective?
Direct mail postcards have a unique combination of low cost, high return on investment (ROI), and a measurable impact on the potential customer that digital marketing does not.
Postcards are cost-effective
Postcards cost less than other direct mail alternatives. Other direct mail options typically require an outer envelope, an internal letter or brochure, and a reply envelope. Postcards are a unique format that allows you to send direct mail on one piece of paper that is clearly displayed without the customer having to open it.
Because of the simple reality of less materials used, postcards take less time for our team to design which contributes to the lower costs of postcard mailing campaigns. Postcards can be addressed and personalized via inkjet addressing systems which is the most cost-effective way to address mail. They are also allowed to be the same size as the largest letters USPS will deliver while not requiring an envelope.
Postcards have a high Return on Investment (ROI)
Because postcards offer a lower initial cost than other direct mail marketing methods and do not need to be opened by the receiver for them to be read, they outclass other forms of direct mail. A typical direct mail campaign is twice as effective as an online ad at generating ROI for your business. The Data & Marketing Association (DMA) found postcard response rates to be around 9% in 2018. While this number may not be impressive on its own, it is important to remember that measuring response rates of direct mail campaigns is much harder than a digital format. In a digital ad, the user's response is counted when they click a link or ad banner.
To give context for why 9% is an impressive response rate, you can look at the statistics for email marketing. Email marketing has a click through rate of 3%, and a response rate of .6%. We are all bombarded by emails from companies that we often send directly to trash without opening. The USPS found that 98% of people check their mailbox daily and since postcards do not need to be opened to be read, they are scanned by nearly 100% of those who receive them. This means you are almost guaranteed to have your prospective customer's attention for some period of time when you send them a postcard. Compared to email's click through rate of 3%, this is staggering.
Postcards are high impact and "sticky"
As we mentioned, postcards stick around in a person's life for an average of 17 days before being discarded. The likelihood of your postcard being scanned when it first arrives is almost 100%. Unlike email, your potential customers can interact with this piece of mail several more times over the next 2 weeks.
Postcards are the only type of mail, digital or physical, that do not need to be opened to be read. The receiving party does not have the option to ignore your brand entirely. If they are not interested, they may throw the mail away, but they will have read the message you were intending to get across. This builds brand awareness in an effective way, regardless of response rates.
Physical mail evokes emotion. The USPS reports that over half of the country look forward to receiving mail and indicate that it is a pleasure to get physical mail. Postcards have the benefit of being colorful in design and they can catch the attention of those who would not look twice at a plain letter design. Being able to clearly display your brand's message in full color with eye catching designs is an attribute unique to postcards.
While postcards are scanned by almost 100% of those who receive them, DMA research indicates over 50% of postcards are read in full by at least one member of the household. Being able to claim that your marketing message will be read in full by 50% of households, is unparalleled in today's marketing landscape. It is worth remembering that email has a click through rate of just 3%, and this statistic does not guarantee that your email was read in full.
2-4 day production (faster rush also available by quote)
Extra-thick 16pt premium cardstock is standard
Full Color Printing on Both Sides · Matte or High-Gloss UV Coating, No Extra Charge
Quantity
Small Postcard
 
Jumbo Postcard Sizes


(more sizes pre-priced using the pricing caculator above)

4¼ x 6
4 x 9 
4¼ x 11
5 x 7 
5½ x 8½
6 x 9  
6 x 11
6¼ x 9
6¼ x 11
6½ x 8
6½ x 9
6½ x 12
100
$84
$137
$138
$108
$137
$129
$139
$142
$139
$151
$160
$208
250
$104
$180
$174
$137
$174
$173
$188
$181
$188
$179
$196
$236
500
$114
$186
$186
$159
$186
$195
$224
$194
$225
$199
$212
$256
1,000
$123
$206
$208
$173
$208
$223
$261
$219
$271
$226
$235
$294
2,500
$186
$301
$310
$252
$309
$341
$394
$324
$401
$350
$368
$467
5,000
$257
$424
$443
$363
$444
$505
$587
$465
$602
$530
$548
$672
7,500
 
 
 
$505
$638
$721
$846
$669
$899
$714
$767
$954
10,000
$425
$736
$761
$628
$761
$887
$1,068
$822
$1,117
$938
$998
$1,223
15,000
$585
$1,082
$659
$878
$1,099
$1,265
$1,492
$1,180
$1,526
$1,346
$1,414
$1,663
20,000
$741
$1,348
$1,394
$1,129
$1,394
$1,574
$1,896
$1,493
$1,963
$1,691
$1,769
$2,003
25,000
$907
$1,611
$1,662
$1,349
$1,659
$1,908
$2,319
$1,796
$2,390
$2,063
$2,170
$2,150
30,000
$1,072
 
$1,862
$1,951
$1,539
$1,958
$2,245
$2,319

QUOTE

35,000
$1,224
 
$2,136
$2,240
$1,743
$2,237
$2,571
$2,670
40,000
$1,367
 
$2,363
$2,481
$1,961
$2,523
$2,897
$2,985
45,000
$1,503
 
$2,659
$2,784
$2,173
$2,782
$3,207
$3,311
50,000
$1,636
 
$2,910
$2,987
$2,381
$3,055
$3,523
$3,641
Over 50,000
For Quantities over 50,000 please contact us for a Custom Quote