Door Hanger Printing
Door Hanger Advertising Works!
If you've been thinking about using door hangers to advertise your business, you're on the right track! Door hangers can be a great way to reach new customers and increase brand awareness.
Door hangers are a tried and true marketing strategy that still reigns supreme in terms of effectiveness. They allow you to reach your target market efficiently and directly, and our high quality printing ensures that your message will look great. Plus, we offer a weather resistant coating at no additional cost to keep your door hangers looking great for longer. Get started with Catdi Printing today and see the amazing results for yourself!
Offer High Impact & Low Cost Advertising Alternative. Want to be able to reach customers at their front door? Well now you can with Full-Color Door Hanger advertising from Catdi Printing. Door Hangers are a simple marketing tool that many companies do not use to their full potential.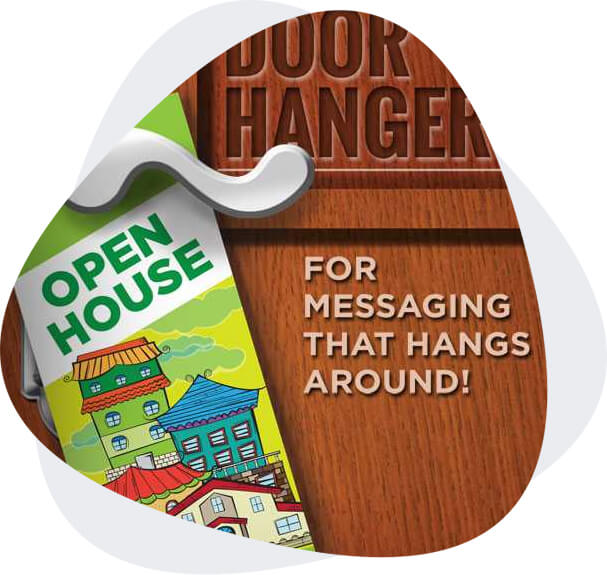 Why door hangers can be an effective marketing tool.
Door hangers are a great and cost-effective way for small businesses to expand their business presence. Door hangers enable you to easily get your business message in front of your target audience, while also allowing them a chance to take action by visiting your store, website or calling your business. They are effective because they are usually seen by people who are already home, so you don't have to compete with other advertising for their attention. Additionally, door hangers allow the recipient to physically interact with them and potentially keep it up for reference if desired. Door hangers can help deliver long-term results and drive more sales for small businesses over time. Many companies chose to boost the effectiveness of their door hanger campaign by including a coupon to entice the customer to act. Whether you're a restaurant, retail shop or any other local business – door hangers should be in your marketing mix!
Door hanger advertising can help announce to everyone in your area that you're the new business down the street. They can also help introduce an established business to potential customers that have recently moved into an area and haven't seen your sign, building or previous advertising.
Think of all the great promotional possibilities that door hanger advertising can afford many businesses. The potential benefits of door hanger printing and door hanger advertising cannot be understated.
Door hanger advertising also helps you save on postage and mailing costs. By hand-delivering your company's message from door to door, you can use door hanger advertising to promote your business to your community without the hassle of collecting.
Our door hanger and rip hanger printing comes on sturdy 12 point card stock with a weather resistant coating and all perforations and die cuts included. Order rip hangers or door hanger printing from Catdi today.
Catdi Printing prints on a wide range of paperstocks. Our standard and most effective paperstock on our door hangers is a CS2 14pt paper stock. This is cardstock is perfect when it comes to multi-use postcard marketing especially when the amount is greater than 10,000. All of our door hangers come with a Aqueous based coating at no additional charge.
How to design a door hanger that stands out
When it comes to designing a door hanger that stands out, the first step is to select sturdy card stock and weather resistant coating. This will ensure that your design can stand up to even the harshest conditions! You should also make sure that all perforations and die-cuts are included in your design. Take care when putting together your door hanger design as these small details will help get you noticed. Our graphic designers are skilled at creating door hangers that get your noticed. With a little creative flair, you can create a door hanger unlike any other!
Tips for distributing door hangers
Distributing door hangers can be an effective way to target potential customers, if done correctly.
Campaign location: Make sure the size of your target is manageable and better yet realistic.
Take advantage of customizations: It's key to customize your target strategy as much as possible – drilling down even further than just neighborhood will reap better rewards.
Be data driven: To increase efficiency and effectiveness make sure to take advantage of existing data. Target your door hanging campaign with precision, looking at age groups, gender, or occupations for example.
Taking this into account will help you create the most effective messaging for any campaign regarding door hangers.
Case studies of businesses that have used door hangers successfully
Door hangers are a great way for businesses to reach out to local residents and make an impact. Studies have shown that businesses who use door hangers as part of their advertising and marketing techniques see a higher rate of success than similar businesses with traditional advertising techniques. Case studies from allover the world provide an insight into how businesses use door hangers successfully, from coffee shops to hairdressers. Business owners are finding innovative ways to make this marketing tool work for them, whether it be using eye-catching images or coupons for discounts, door hangers can become an invaluable asset for any business. Understanding how to maximize the potential of door hangers can help create a more effective presence in the local community and draw customers in, potentially creating long-term success and repeat customers.
FAQs about door hangers
Door hangers are a great, customizable way to communicate with customers, whether it's to alert them of services offered, inform them of upcoming events or sales, or advertise special offers.
Door hangers can be an extremely effective way to market your business, but only if they are designed and distributed correctly. The real value of door hangers is their ability to target customers directly at their front doors – making sure your message is the first one they see! With the right design, door hangers are an effective marketing tool that'll make an impact for your business.
The good news is that Catdi is here to help you with every step of the process, from design to distribution. We have years of experience designing eye-catching door hangers that get results, and we can create a custom campaign for your business that targets your ideal customers. Contact us today to get started! We look forward to hearing from you.
If you have any questions about door hangers, we're here to help. Reach out to us and let us know what's on your mind – our knowledgeable team will answer all of your questions! We hope this has been helpful in understanding the potential that door hangers have for business success.