Window Clings for Small Businesses Work Wonders!
Window Graphics & Window Clings
It's easy to understand why window graphics and window clings are so popular for businesses. Even a quick look around an office block, shopping mall, or row of shops will show that more often than not, window marketing is ever-present.
That's because window stickers are a high-value tool for marketing, and can be vital for creating brand awareness, highlighting promotions, or simply improving brand consistency.
Very often, the first time that a customer becomes aware of a business will be via their window display marketing. And it's not just windows in brick and mortar premises either. Window clings especially are ideally suited for vehicle branding, making your marketing efforts mobile.
Making the Most of Window Real Estate
Marketing and advertising are rarely inexpensive, and that means business owners need to take advantage of everything they can utilize. Window space is very often overlooked as prime marketing real estate. Still, it can turn your frontage, your glass-divided POS, or any other surface, into a valuable platform for advertising. Easy to fit to your chosen surface, window graphics transform a brick and mortar outlet or a vehicle, allowing you to get the maximum impact with minimal cost. If a store is bland and without that touch of branded character, then it will be less visible and more easily ignored by potential customers that are walking by.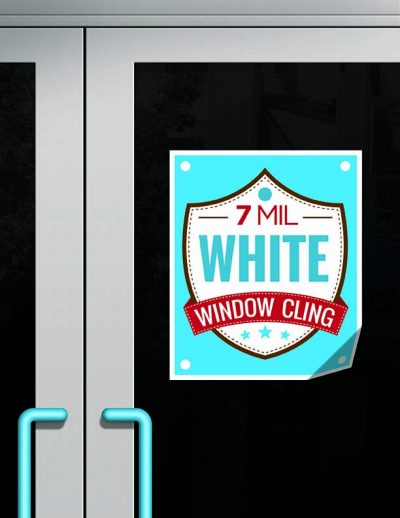 Window Clings
Static cling window stickers are ideal for indoor and outdoor use. As they don't require any kind of adhesive, they can be easily removed, repositioned, and re-applied quickly and easily. That makes them ideal for seasonal promotions or for when a business has an always-changing branding strategy. One of the reasons why they are so commonly seen being used on vehicles is that they can be applied without having to worry about causing any damage to a car or van, and their ability to be cut into any shape makes them perfect for any logo design, slogan, or image.
Making Marketing Mobile
One of the main reasons why business owners use window clings on vehicles is because they turn every journey into an advertisement. Being stuck in traffic can turn from being frustrating to productive if your branding is visible to other drivers. No matter where you go, you will be taking your marketing with you. For maximum reach, an increase in brand awareness, and the ongoing delivery of brand consistency, window clings are an invaluable marketing tool for businesses of all kinds. 
Perforated Window Graphics
There's a good chance that you've seen these being used but rarely registered what they are doing. Perforated window graphics work effectively because they allow those on the inside of your business or your vehicle to see outside clearly while preventing passers-by from seeing in. That makes them highly valuable for creating that enticing mystery that will get those potential customers interested in what else you have in your store, or for adding to the impact of your branded vehicle. Perforated window graphics are particularly popular for use on company cars and vans because of their unique visibility features.
Taking Control of Impact
A lot of business, especially on the marketing side of things, is about ensuring that you control first impressions. Having an understated, non-memorable sign positioned outside of your store is not going to make an impact all by itself. You will find it even more challenging to stand out, get noticed, and be remembered if your own shop is devoid of personality while being surrounded by branded windows that pop, attract, inspire, and amuse. The modern-day consumer is spoiled for choice when it comes to when, where, and how they shop, and that means business owners need to leverage every advantage at their disposal.