NCR Form Printing Services
Catdi Printing offers a ton of carbonless and ncr printing solutions for your small business.
NCR Form Printing Services
When it comes to NCR form printing services, Catdi Printing is the go-to solution for businesses of all sizes. With a commitment to exceptional quality, reliable service, and customer satisfaction, Catdi Printing stands out as a trusted printing partner in the Houston area. Let Catdi Printing take charge of creating an appealing impression of your business to your clients and prospective partners by offering you full color carbonless forms that are printed on high quality NCR paper. With the NCR forms, you can easily produce multiple copies of a single document by either handwritten or typed format. They are very handy for a business when creating invoices, receipts, delivery notes, contracts or purchase orders. The NCR forms are very handy and crucial when it comes to controlling the chances of errors since the similar information is relayed in all documents, the originals and the copies.
The full color forms are available in 2-part that is in white and canary and 3-part that comes in white, yellow and pink color at two different sizes, half page 5.5"x8.5" and full page 8.5"x11". Your desired NCR form can be printed on the front and back depending on the type of your content, as well as sequential numbering is inserted.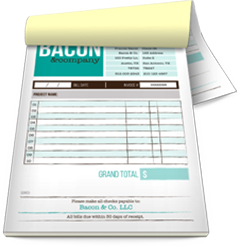 Specifications of our Full Color Carbonless NCR Form Invoice Forms:
NCR Customization Options:
At Catdi Printing, we understand the importance of customization. We offer a range of customization options to tailor your Full Color Carbonless NCR Form Invoice Forms to your specific requirements. You can include your company logo, contact information, terms and conditions, and any other relevant details to create a personalized and professional look.
Experience the convenience and professionalism of our Full Color Carbonless NCR Form Invoice Forms. With carbonless paper, full-color printing, multiple parts options, and customizable features, our NCR forms are designed to meet the unique needs of your business. Simplify your invoicing process and enhance your brand image with our high-quality NCR forms.
Carbonless Paper:
Our NCR forms are printed on premium carbonless paper, which eliminates the need for messy carbon sheets. This ensures clean and smudge-free copies every time, making your invoices look professional and legible.
Full Color NCR Printing:
We utilize full-color printing technology to bring your NCR forms to life. Vibrant and eye-catching, full-color printing allows you to incorporate your brand colors, logos, and design elements, making a strong visual impact and reinforcing your brand identity.
2 and 3 Part NCR Forms Options
We offer both 2 and 3 part NCR forms, giving you the flexibility to choose the number of copies you require. The 2-part forms create two duplicate copies, while the 3-part forms produce three copies, ensuring you have enough copies for your records, clients, and accounting needs.
Numbering Sequence and One Color Options
For added convenience and organization, we provide numbering sequence options for your NCR forms. Sequential numbering allows for easy tracking and reference, ensuring accurate record-keeping. Additionally, if you prefer a more streamlined design, we offer one-color options to meet your specific preferences.
Why Choose Catdi Printing for Your NCR Form Printing Needs?
Extensive Experience: With years of experience in the printing industry, Catdi Printing has developed deep expertise in NCR form printing. Their team understands the unique requirements of businesses when it comes to creating professional NCR forms and can provide expert guidance and support throughout the process.
High-Quality Printing: Catdi Printing prides itself on delivering high-quality printing that meets the highest standards. Utilizing advanced printing technology and premium materials, they ensure that your NCR forms are printed with precision, vibrant colors, and sharp details. The result is professional-looking NCR forms that reflect positively on your brand.
Customization Options: At Catdi Printing, they understand that each business has its own unique needs and branding requirements. That's why they offer extensive customization options for NCR forms. From selecting paper stock and size to incorporating your company logo, contact information, and branding elements, Catdi Printing can tailor your NCR forms to match your specific vision and requirements.
Large and Small Company Solutions: Catdi Printing serves businesses of all sizes, making them an ideal partner for both large corporations and small companies. Whether you need a small batch of NCR forms or a large order to support your growing business, Catdi Printing has the capabilities to handle your printing needs effectively and efficiently.
Timely Delivery: Time is of the essence in business, and Catdi Printing understands the importance of meeting deadlines. Their streamlined printing process and efficient production methods allow them to deliver NCR forms within the agreed-upon timeframe. You can trust that your NCR forms will be printed and delivered promptly, ensuring you have what you need when you need it.
Exceptional Customer Service: Catdi Printing is committed to providing exceptional customer service from start to finish. Their friendly and knowledgeable team is readily available to answer your questions, address any concerns, and provide guidance throughout the printing process. They pride themselves on building strong relationships with their clients and exceeding expectations.
For reliable and top-quality NCR form printing services in Houston, Catdi Printing is the trusted choice. Whether you are a large corporation or a small business, Catdi Printing can meet your specific requirements, deliver outstanding results, and help enhance your documentation processes. Experience the professionalism and expertise of Catdi Printing for all your NCR form printing needs.