Our Stafford / Sugar Land Location is Now Accepting Print Orders – Call Catdi Printing today to place your order
Catdi Printing
12811 Royal Dr # 116,
Stafford, TX 77477
Phone number : + (281) 201-3543
Custom Printing & Direct Mail Services in Sugar Land
When you need professionally printed marketing materials, you need a local company with a wide range of printing services.
Did you know that Sugar Land, TX is only 60 years old? This city neighboring Houston is still growing, with new small businesses everyday popping up and flourishing, finding new ways to reach their customer base. When your small business needs to increase sales and brand awareness, you need to think about the message you are communicating to your customers. With quality, professional marketing materials that catch the eye and leave a memorable impression, you are telling your Sugar Land customers that you care about the details in everything your small business does.
Our company has served businesses all around the world. We have the capacity for large jobs, meaning we can handle your order of 100,000 postcards or flyers, but we also work with many local businesses needing 50 flyers or business cards professionally printed and ready to go. No job is too small or too large for us to take seriously and handle with the utmost care. Our wide range of printing services means you can count on us for the needs you have today, tomorrow, and five years from now. It's time to partner with a printing service near you you can depend on.
Maximize Your Digital Marketing By Combining It With Printed Materials
We live in an exciting time for marketing. You can now reach your audience through more channels than ever before. When you combine your digital marketing efforts with printed materials, you get the benefits of digital marketing and print marketing working together to reach your audience. Also large format printing has become increasingly popular over the years with businesses using banners, window decals, cars magnets, and floor magnets. This type of printing has make every day items brandable like pens and just another avenue for businesses to market their products and services.
Send dedicated postcards to your customers with an important message and the URL for the website where they can learn more. Hand a business card to a potential new contact with your social media handles center stage. Distribute flyers to your customers with a custom QR code they can scan with their phones and find more information.
Custom, quality printed materials offer a personal touch that builds a deeper connection with your customers.
Quality Business Cards for Growing Local Businesses
In this new digital age for commerce, the personal touch of a business card is more important than ever before. It's understandable that some people may underestimate the power a business card can hold when so much of marketing is focused on social media and search engine optimization these days. Those are valuable marketing efforts. However, everyone you meet sees hundreds (if not thousands) of messages on social media every day. When you have someone's attention in the physical world, you have a unique opportunity to make a tangible impression.
Whether you are handing someone your business card in person or they are discovering it on their own on a business card, quality matters. A business card you printed at home won't last as long, the colors won't be as crisp, and it won't have the personal touches that make someone stop and take notice. Not only does this lose your chance to make a memorable impression, it doesn't represent your business as a professional service.
When you want to connect with your Sugar Land, TX customers, you want to offer them a business card that makes them stop and take a second look. A quality card stock with some weight to it, a finish that says your business is professional and cares about everything they do, and the branding that stays in their mind so they remember you when they need your business down the line.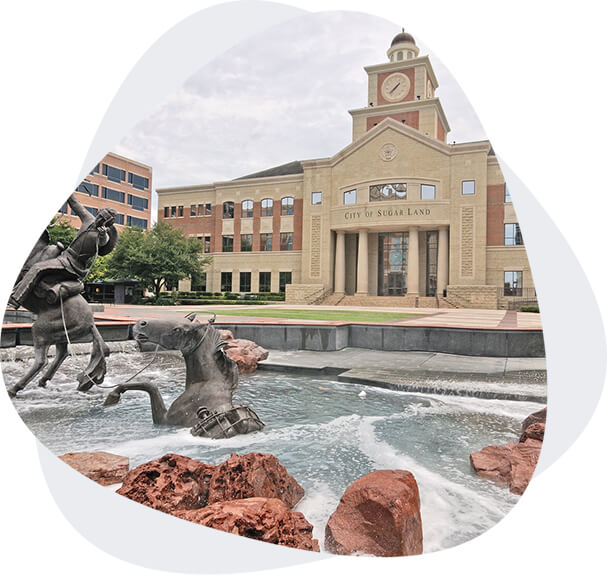 Business cards are small in size, but they can pack quite a punch for your marketing efforts when done well. We are proud of our work partnering with local Sugar Land, Texas businesses to make sure their business cards have the maximum impact.
Reach Your Audience With Every Door Direct Mail (EDDM)
Do you have a message you wish could reach everyone who lived in a specific neighborhood? Do you need to do this on an affordable budget, while maintaining a professional impression for your business?
We've helped many Sugar Land, Texas businesses reach their local customers through EDDM (Every Door Direct Mail). Our experience has taught us that this is an easy and affordable way for local businesses to reach their audience and increase revenue quickly. By working with the United States Postal Service, you don't have to purchase a mailing list or a permit.
When you work with us, the process is simple. Design a postcard that stands out. You want your message to be clear, short, and powerful. You want to personalize your message so it matters to Sugar Land, Texas customers. You want the design to be branded so people remember your business.
With a memorable design in hand, we'll ensure your printing stands out with a quality cardstock with vibrant color printing that catches the eye. We'll then work with the USPS to build an EDDM campaign for highly targeted mailing. There will be a few different options for how to narrow down where your business postcards will be sent. Some factors you can choose your delivery options for include by zip code, a specific radius, the city, or by the number of postcards to be delivered. If you'd like to target all of Sugar Land, TX, a specific neighborhood, or break into the Houston area, you can do so in a cost-effective campaign with EDDM.
If You Can Dream If, We Can Help You Make It A Reality
Our commercial printing services cover a wide range. Do you need branded notepads? Are you looking for the personal touch of door hangers? Do you need some large format printing, like banners or window clings? Does your business need some branded coffee mugs? Do you need to emboss or die cut your next project?
Whatever printing services your Sugar Land, TX business needs, we're up to helping you meet the challenge with quality printing you can trust to represent your brand and local customer service that makes the process an enjoyable one for our clients.
Our newest location is open and accepting orders. Please call (281) 201-3543 if you have any questions regarding our services.