Glendale Every Door Direct Mail (EDDM)
Catdi Printing can help you make the most of your Every Door Direct Mail. When it comes to
saturation direct mail marketing the EDDM program is a great option for small business.
Every Door Direct Mail (EDDM) Glendale, CA
Catdi Printing is here to help you maximize the potential of Every Door Direct Mail (EDDM)® – a simple and effective way to reach local prospects through the U.S. Postal Service.
Understanding EDDM Marketing
EDDM (Every Door Direct Mail)® is an innovative program developed by the U.S. Postal Service, specifically designed to make direct mail campaigns more affordable and accessible for small businesses. At Catdi Printing, we collaborate directly with the U.S. Postal Service to ensure the most cost-effective EDDM campaigns for your business.
Here's what to expect: 
No Mailing Lists: With EDDM, you don't need to worry about purchasing or managing mailing lists. Instead, you can target specific neighborhoods, ZIP codes, or carrier routes, allowing you to reach a broad audience without the hassle of individual addresses.
Control Over Timing: Take charge of your campaign's timing with EDDM. You can plan and schedule your mailings to align with your marketing strategy, ensuring your messages reach potential customers at the right time.
Better Responses for Larger Pieces: EDDM enables you to send larger postcards or flyers, giving you more space to showcase your products, services, or special offers. The increased size catches the recipient's attention and allows for more impactful and persuasive messaging.
No Bulk Permit Required: Unlike traditional direct mail campaigns, EDDM eliminates the need for a bulk mail permit. This simplifies the process and reduces costs associated with permits, making EDDM an even more attractive option for small businesses.
Should You Use Every Door Direct Mail Marketing?
With Catdi Printing, you can unlock the full potential of EDDM marketing in Glendale. Our expertise in EDDM campaigns, combined with our collaboration with the U.S. Postal Service, ensures that you get the most out of your marketing budget. We'll guide you through the process, from selecting the right target areas to designing eye-catching and compelling mail pieces.
Get Started Today
Ready to leverage the power of Every Door Direct Mail? Contact Catdi Printing today to discuss your EDDM campaign in Glendale. Our team of professionals is ready to assist you in reaching a wider audience, generating leads, and driving business growth through cost-effective EDDM marketing.
Request Printing Services in Glendale, CA
Businesses That Benefit From EDDM
EDDM works best for local businesses that need local customers. With EDDM you can choose to mail to local routes in Glendale or any cities/neighborhoods nearby. Here are some common businesses that benefit from using Every Door Direct Mail:
Restaurants
Dentists
Attorneys
Florists
Dry Cleaners
Political Campaigns
Auto Repair
CPA's & Tax Prep
Gyms & Fitness
Moving & Storage
Salons and Spas
Insurance Agents
Car Washes
home Services Businesses
Doctors, Clinics & Hospitals
Heating & AC / Electricians
Churches
Realtors
The Best EDDM Service in Glendale, CA
If you target the right audience with the right message, you're more likely to get the best results for your business, right? So why not work with us to reach your clients by mail? Catdi in Glendale can help you with everything from designing the best postcard, letter, or flier to getting your marketing materials delivered. We're happy to take you every step of the way and answer any questions you might have.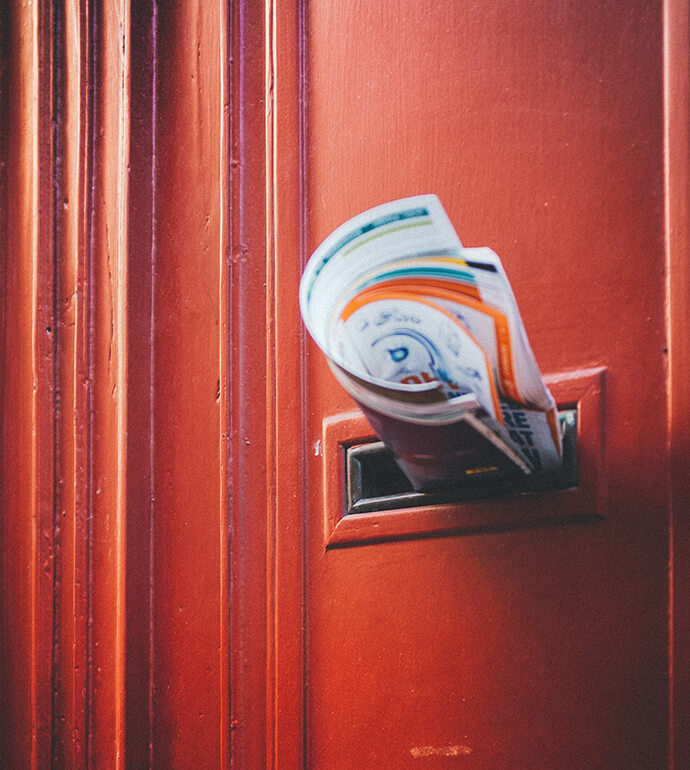 How Our EDDM Glendale, CA Service Works
Every Door Direct Mail (or EDDM) is the delivery of your brand's marketing to every door that you choose, with the US Post Office. This new service is a great way for small new businesses to reach their intended audience and potential customers. At Catdi, we'll help you put this service to use by:
Designing your marketing materials
Quality and fast printing
Targeted market & prospect research
Mail preparation
How long does EDDM take to deliver?
How Long Does USPS EDDM® Take to Deliver? On the fast end, 1 to 2 business days. However, it may differ depending on the campaign. We will walk you through estimated delivery times during the process.
Zip codes In Glendale We Service
Catdi printing services these Glendale zip codes and more: 90039, 91011, 91020, 91046, 91201, 91202, 91203, 91204, 91205, 91206, 91207, 91208, 91210, 91214.
What is the difference between EDDM and direct mail?
The primary difference between the two is their targeted recipients. Traditional direct mail has a list of direct targets specified. EDDM, while less expensive, targets every single house in a specific chosen area.
Trusted EDDM Campaigns in Glendale, California – Catdi is Your Partner
When it comes to Every Door Direct Mail (EDDM) campaigns, businesses in Glendale, California, place their trust in Catdi. We offer comprehensive EDDM services, encompassing design, printing, marketing, and mailing, all under one roof. Our commitment to excellence sets us apart, making us the preferred choice for EDDM campaigns in Glendale.
Targeted Delivery to the Right Doors
At Catdi, we understand the importance of reaching the right customers with your EDDM campaign. That's why we take the time to understand and research your business to ensure optimal results. Our team is dedicated to identifying the most relevant target areas, allowing you to connect with potential customers who are genuinely interested in your products or services. With Catdi, your EDDM materials will be strategically delivered to the doors that matter most to your business.
On-Time Delivery with Budget in Mind
We value your time and budget. With Catdi, you can trust that your EDDM campaign will be executed efficiently and within your designated timeframe. Our streamlined processes and attention to detail ensure that your materials are printed, prepared, and mailed promptly, maximizing the impact of your EDDM campaign without unnecessary delays.
What Requirements Does EDDM Have?
Contact Us For Your EDDM Glendale Campaign Today
Our EDDM service is available 7 days a week, 365 days a year!
Call our Glendale, CA number at , or contact us by email.
9 Nationwide Printing Facilities Locations…..1 Simple Solution.
With several printing plants locations nationwide — and fast production times, Catdi Printing can produce orders quickly & ship them to wherever you need them at a competitive price. In most cases we can have them shipped next business day. We also now have international print capabilities with the opening of our Canadian print facility in Toronto, Ontario. Our global headquarters are located in Houston, Texas. Give Catdi Printing a call today to lean more.