Pocket Folder Printing Services
Pocket folders are a great way to keep your company's marketing materials together in just one place. One can create a promotional folder with a wide range of designs and motives to make them display well while advertising a brand.
In this article, we will take a closer look at these handy methods to increase the image of any business. You will not look the same way at marketing and presentation methods again if you see the simple design of pocket folders.
Investigate the potential for brand exposure and the comfortable way it can present your brand or service.
What Is a Pocket Folder?
First of all, a pocket folder is a simple and easy method to organize important documents and keep them neatly together. It is also an excellent way to keep marketing materials for your business together in custom presentation folders that represent your business.
A custom folder can contain all the business information on the front page, so it is visible to everyone. Custom pocket folders can also contain leaflets and copies of the brands, products, and services your business offers.
Inserted in the front or the back of the custom folder, you can add business card slots to hold business cards. Students can also use these folders as custom certificate holders to keep their certificates and diplomas safe and together for job applications.
They are affordable holders for just about anything from promotional materials and even personal documents to keep them organized and protected.
Why Do You Need Pocket Folders?
A custom folder for your business that contains a business card slot is an excellent way to promote your brand to potential customers. It can be used as a form of presentation for new product launches of new products provided by your business.
Business pocket folders can help improve professionalism when you present a new product or service to customers.
Methods Used To Decorate Pocket Folders And Different Formats
Pocket folders come in many different designs with a wide range of motives to decorate the folder with different printing and paints. An aqueous coating is used to decorate a pocket folder to represent a business logo or any other message you want to convey.
This is a highly complex process and will help preserve the printed picture and give some shine to the folder. Businesses that design and create these folders have many different presentation folder templates you can choose from when you need them.
Custom folder printing is a specialized type of printing that can be done by most businesses that create them. There are many different folder options to choose from when it comes to designing and creating folders for your business.
Business card slits are added to the folder, so any potential customers will have a quick method to contact your company. Foil stamping is also a method to improve the visual effects and printing quality on any pocket folder.
Spot color offset printing is a method used to match the colors of a company logo to improve the overall visual quality. You can also add a glossy finish to any custom pocket folder to intensify the colors and make it look more professional.
One can use a wide selection of full-color printing options to provide a clear picture that will help to promote your brand. You can also choose between a one-pocket or two-pocket presentation folder for your promotional material.
There is also a wide range of custom mini paper folders that one can use for promotional purposes. These custom mini folders are lightweight and small and can be used for gift certificates and other promotional coupons.
Another use for custom mini pocket folders is to hold several business cards that other companies can use. Your personal choice for presentation folders is unlimited and can represent anything you want them to. It can even be made in different shapes.
They can vary in solicitation level from basic two-pocket poly folders to other more advanced shapes and colors. Color presentation folders will also help improve your business's image and display the logo on the front much better.
Large custom paper folders are much cheaper to produce than those made from thicker paper stock. Paper stock folders may be a bit more expensive, but they are thicker and last longer than thin paper ones.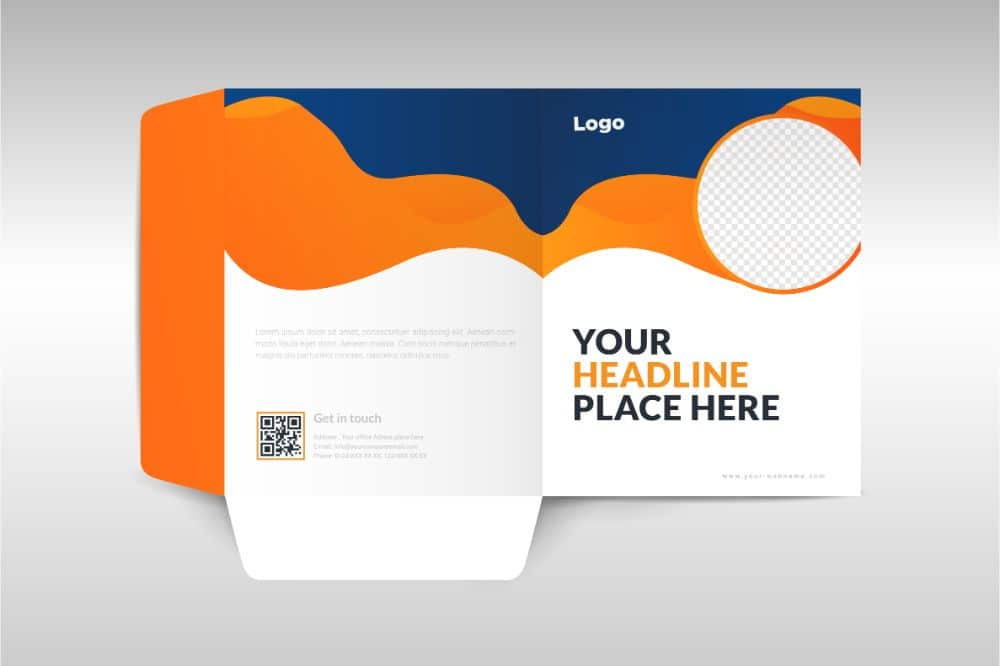 What Are the Uses Of Pocket Folders?
There are several different applications for custom folders and the uses are limitless if you use your imagination.
One can use pocket folders to show off your products at trade shows to impress the customers with your professionalism.
Clients can use welcome folders with any meeting, such as seminars or an introduction to a new venue.
One can also present customer services in color document folders to increase the exposure of the business.
Other uses are to use them as church welcome folders to be handed to everyone entering at the door.
Benefits Of Pocket Folders
Custom pocket folders are made in batches, so there is a minimum quantity they can be ordered in. Several other great benefits come with pocket folders which are listed below.
The good thing about this is that if you buy them in bulk, you may get them for much cheaper than in small quantities.
You can print your company logo on the front page to increase exposure.
All your materials such as brochures, proposals, and business cards are stored inside the folder in a professional manner.
All non-digital materials are stored in the pocket folder so they can be seen as a miniature version of your office.
They can be printed and designed in any style to fit in with the needs and logo of your business.
You can also add visual promotional materials in the form of a DVD that will nicely fit in the pockets or slots.
Summary
Pocket folders extend your business or brand image and can be designed the way you want them. That is why you need this handy tool to present all non-digital materials to your customers and other circle members.
This is an intelligent way to keep everything you need to promote your ideas neatly and professionally.