Digital marketing has become a cornerstone of success for many businesses. The success of a digital marketing campaign often hinges on the landing page's effectiveness. A landing page is more of a webpage where visitors land after clicking on a link from an advertisement or email. Remember that an effective landing page can drive conversions and sales. For this reason, this article will discuss the six essential factors to consider when creating an effective landing page for your business.
Have A Clear And Concise Headline
If you quickly dive into some of the best website designs in Houston, one thing that will stand out is the attention to detail when creating effective headlines for landing pages. A headline is the first thing a visitor sees and sets the tone for their entire experience on the page. A clear and concise headline is essential because it grabs the reader's attention, provides an immediate understanding of what the page is about, and entices the reader to keep reading.
For example, if you're creating a landing page for a new service, a good headline is 'Unlock the Power of Our New Service.' This headline gives an immediate understanding of the service is and its potential benefit. It also creates a sense of anticipation and curiosity to learn more. In addition, the headline should also be concise so that it only takes up a little space and does not overwhelm the reader. It must be understandable to the average reader and effectively convey the page's message.
Add Customer Testimonials
Customer testimonials are an essential element of any successful landing page. They help increase trust in your product or service and demonstrate to potential customers the value of your offer. Testimonials from real customers provide social proof that your product or service is worth their time and money. This helps build trust and credibility with your audience, which is crucial to attracting customers.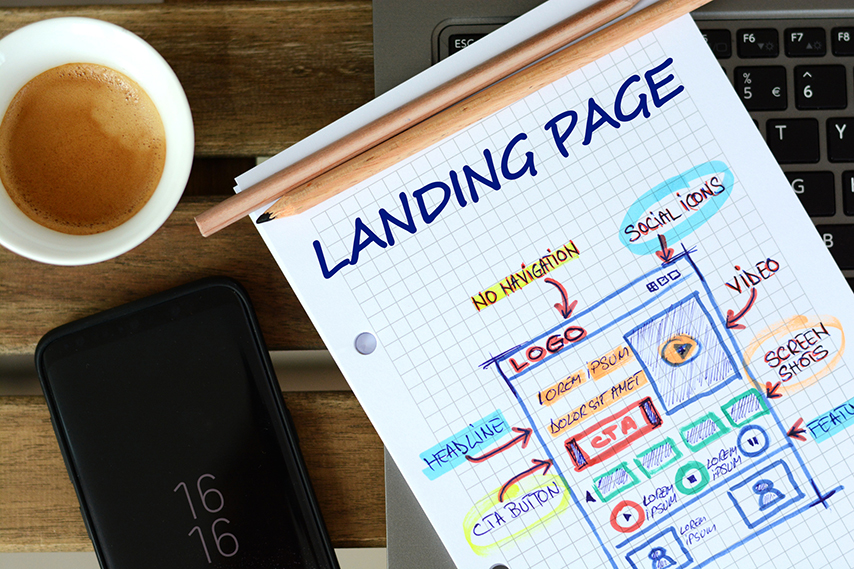 Additionally, you can use customer testimonials to highlight the features and benefits of your offering and provide a more engaging experience for visitors. Introducing customer testimonials on your landing page can help demonstrate your product's or service's value, build trust, and ultimately attract more customers.
Have An Engaging Visual Or Video
With the many businesses opening in Houston, websites have become an integral marketing strategy for most businesses. As such, landing pages are essential in providing users with an introduction to your service or product and an easy way to navigate to other areas of your website. Engaging visuals and videos on your landing page are essential to capture potential customers' attention effectively.
Visuals are more likely to draw the user's attention and create an emotional connection with your service or product. Videos can explain the benefits of your product or service and provide a personal touch to the website. To effectively introduce visuals and videos on your landing page, it's essential to ensure they have a clear purpose.
For example, you could use visuals to highlight the features of your product or service or to demonstrate how it works.
Have A Strong Call To Action
A solid call to action is crucial to any successful landing page. It encourages visitors to take the desired action, such as downloading a free eBook, subscribing to your latest newsletter, or buying a product. Without a clear call to action, visitors may become confused and leave the page without taking action.
Furthermore, adding a solid call to action to your landing page will motivate visitors to take the desired action. It should be clear and concise and should stand out on the page. It would be best to place it prominently, so visitors are more likely to see it. Additionally, adding a sense of urgency can help visitors take action immediately.
For example, including phrases such as 'Download Now' or 'Sign Up Today' can encourage visitors to take action. Overall, including a strong call to action on your landing page can help to increase conversions and generate more leads.
Add A Form To Capture Leads
The primary purpose of creating a landing page is to capture leads and grow your customer base. Adding a form to your landing page helps make your page stand out by providing visitors with an easy and convenient way to contact you. To maximize the effectiveness of your form, consider adding fields that ask for basic contact information such as name, email, phone number, and address.
You can also add questions that assess the needs of your visitors, such as their industry or preferences, so you can better tailor your services to them. Lastly, you can include an opt-in box for visitors to register for your mailing list or newsletters, so you can keep them informed of your latest news and offers.
Recently, social media has become an increasingly important part of any successful digital marketing strategy. By adding your social media account to your landing page, you can reach a wider audience and significantly increase the effectiveness of your page. Social media allows you to speak directly with potential customers, build relationships, and showcase your brand in a much more engaging way than traditional marketing.
As a result, you can increase your brand visibility, build trust, and encourage leads to convert. Moreover, social media provides valuable data such as customer feedback and insights that can help you improve customer experience and optimize your product or service. Overall, the benefits of social media make it an invaluable tool for any landing page.
Conclusion
An appealing landing page is the number one secret to success in digital marketing. By following these seven essential steps, you can create a compelling and engaging landing page that'll help drive conversions and generate more leads. These elements are critical in a successful landing page, from having a clear and concise headline to adding social proof. Following the tips explained in this article, you can create the perfect landing page for your business and increase your online visibility.